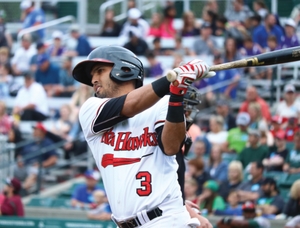 FARGO — For the second straight night, the Fargo-Moorhead RedHawks (9-11) found themselves on the wrong end of a one-run ballgame in a 2-1 loss to the Gary SouthShore RailCats (13-7) in front of 2551 fans at Newman Outdoor Field Friday night. The RailCats pounced with an RBI single in the sixth inning to score the eventual game-winning run and clinch at least a split in the four-game series with Fargo-Moorhead.
Gary SouthShore opened the scoring in the third inning on an RBI single from Andy DeJesus that scored Alex Crosby from third. Crosby advanced to third on a triple down the right field line with two outs in the inning.
After the RailCats doubled their lead in the sixth, Fargo-Moorhead responded with a run courtesy of a Maikol Gonzalez solo shot to left field. Gonzalez's homer was his first of the season. He had four home runs in 100 games last season for the Cleburne Railroaders. His last home run came on August 22, 2017 for Cleburne against the Kansas City T-Bones.
Both starting pitchers twirled solid outings, but Gary's Jeff McKenzie and his off-speed pitches got the best of the RedHawks batters tonight. McKenzie gave up one run on only three hits in eight innings of work tonight. He struck out three and walked none to move to 2-0 on the year.
Sebastian Kessay pitched another strong start for Fargo-Moorhead, but he was on the wrong end of the decision tonight for his first loss of the season. Kessay gave up two runs on five hits in 5.2 innings pitched against the RailCats. He struck out eight and walked three tonight as he dropped to 1-1 in his fourth start of the season.
Travis Ballew, Anthony Pacillo, and Jose Nivar combined to pitch 3.1 shutout innings in relief for the RedHawks tonight.
On the other side, Gary reliever Myles Smith came on in the ninth and earned the save despite giving up a single to Maikol Gonzalez to start the inning.
The RedHawks will look to get back in the win column tomorrow night as the series moves to Game 3. First pitch is scheduled for 6 PM at Newman Outdoor Field.