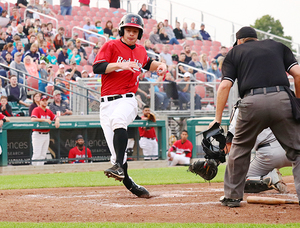 FARGO, N.D. — Gary SouthShore scored six runs in the opening five innings of Wednesday night's game on its way to an 8-2 win over the Fargo-Moorhead RedHawks at Newman Outdoor Field. Chris Jacobs hit his second home run in as many nights despite the loss.
DJ Brown lasted only 4.1 innings in his 12th start of the year and earned his first loss of the season after giving up six runs on eight hits tonight. Brown is now 6-1 with a 3.75 ERA in 12 games this year.
The RailCats pounced on Brown for two quick runs in the first inning on a two-run double from Ronnie Mitchell and tacked on four more over the next four innings to get out to an early 6-0 lead midway through the fifth inning.
Jacobs' home run in the bottom half of the fifth, his fifth of the season and second of the series, got the RedHawks on the board against Gary starter Gabe Perez. Perez got the win tonight after giving up only the one run in six innings on the mound. The big righty gave up only four hits all night to the RedHawks' batters.
Jeff McKenzie came on in relief of Perez in the seventh inning and shut down the Hawks for two innings before Fargo-Moorhead pushed across another run in the ninth inning. Maikol Gonzalez's groundout to second scored Brennan Metzger from third to double the RedHawks' run total.
The RedHawks will look to ward off a series sweep tomorrow afternoon in the series finale against the RailCats. First pitch is scheduled for 12:30 PM for the Business Day Game.