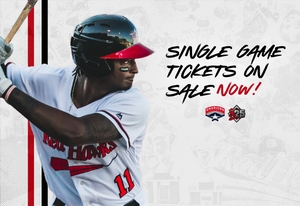 FARGO, ND — Single game tickets for the 2021 Fargo-Moorhead RedHawks regular season will be available for sale on Monday, April 5 at 10 a.m.


The RedHawks will open their 25th anniversary season on May 18 in Texas against the Cleburne Railroaders before returning home to Newman Outdoor Field May 25 for the home opener against the Chicago Dogs. Fargo-Moorhead is scheduled to play 54 home games at Newman Outdoor Field this season.


Tickets are available online via the RedHawks Ticket Office, over the phone at 701-235-6161, and in person.


RedHawks ticket policies will look more normal in 2021, with most sections of the ballpark returning to pre-2020 ticket policies with reserved tickets for assigned seats available ahead of time via the RedHawks Ticket Office. The RedHawks organization will continue to follow the guidance provided by the CDC, North Dakota Department of Health and Fargo Cass Public Health to ensure that all relevant safety precautions and requirements are met.


Select sections (A, B, L, and M) inside Newman Outdoor Field have been designated as special socially distanced sections for the 2021 season. In these sections, tickets will be sold in pods ranging from 2 to 6 seats to ensure that fans wishing to social distance can do so without issue. Seating will be staggered so that each pod is at least two seats from any other and no fan will have anyone else directly in front or behind them.


When purchasing tickets in these socially distanced sections, fans must purchase all tickets for the pod in which they wish to sit. If purchasing tickets online, selecting one seat in a pod will automatically add all seats in that pod to the cart.


Additionally, every other row in all general admission sections will be blocked off to separate fans wishing to sit in those areas. The RedHawks will continue to evaluate these options as the season goes on, and these guidelines are subject to change.


Single game tickets will be available at the prices listed below:


Advanced Day of Game

Reserved $10 $12

3B Red Reserved $8 $10

General Admission $6 $8


The RedHawks and Newman Outdoor Field will start the season at 75% capacity and continue to evaluate the situation as it evolves. The ultimate decision regarding capacity will be made in adherence with requirements provided by the relevant local, state, and federal authorities.


Fans at Newman Outdoor Field will be treated to giveaways, fireworks shows, special events and souvenirs to celebrate the team's 25th anniversary, special entertainers, and much more. The 2021 RedHawks promotional schedule can be viewed online here.


For more information on the 2021 season, fans can contact the RedHawks via social media, by phone at 701-235-6161, or online at fmredhawks.com. The RedHawks Ticket Office is open Monday-Friday from 10 a.m. to 6 p.m. and Saturday from 10 a.m. to 1 p.m. The Ticket Office will be open from 9 a.m. to the end of the game on game days.