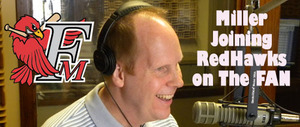 The Fargo-Moorhead RedHawks are moving on the radio dial in 2010, but the Voice of the RedHawks will remain unchanged.
Scott Miller, who has been the "Voice of the RedHawks" since 2006, will return to the broadcast booth this summer as the RedHawks make the move to The Fan 740 AM. Miller's return was announced Friday morning by RedHawks President Bruce Thom on KFGO's News and Views with Joel Heitkamp.
"Scott Miller is one of the best radio men in minor league baseball," said Thom. "With his move to Radio Fargo-Moorhead, we are very happy to have him back in the radio booth this summer calling the action for the RedHawks."
Miller, who also serves as the play-by-play voice for the North Dakota State University Bison football and basketball teams, will again be joined in the booth this summer by Los Angeles Dodgers legend Maury Wills on selected broadcasts
. Wills, who is returning to the RedHawks for his 14th season, will work selected home stands throughout the summer.