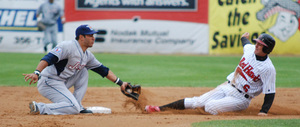 The
Fargo-Moorhead RedHawks dropped an 11-6 decision to the Joliet Jackhammers in Game 2 of their series on an overcast night at Newman Outdoor Field. William Jackal came on in relief for Joliet to get the win while Fargo-Moorhead's J.J. Pacella took the loss
.
Joliet pounded out 13 hits in the game, including five for extra bases
. Left Fielder Ryan Basham was 3-for-3 with two RBI and two runs scored for the JackHammers. Brad Correll's home run off of the scoreboard in left field helped Joliet tie the game at five in the fifth inning. The JackHammers then tacked on three runs apiece in both the eighth and ninth innings to easily pull away with the win.
Fargo-Moorhead struggled with fundamentals, allowing five walks and committing two errors. Second baseman Carolo Cota went 2-for-3 with a double, two RBI and two runs scored for the RedHawks. Fargo-Moorhead's Cory Patton was also 2-for-3.
These same teams will meet again tomorrow afternoon in a rubber match at Newman Outdoor Field beginning at 1:00pm. Ross Stout will take the ball for Joliet while Scott Fogelson will get the start for Fargo-Moorhead.