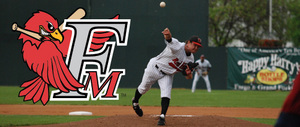 Right hander Matt Mossey pitched a two hit, complete game shutout to lead the Fargo-Moorhead RedHawks to a 2-0 win over the Lake County Fielders in the opening game of a four game set on Monday evening at Newman Outdoor Field.
Lake County starter Zach Ward was locked in a pitcher's duel with Mossey through five innings. However, in the sixth he allowed Fargo-Moorhead's Mike Coles to reach on a single. Coles then promptly stole second to put himself in scoring position. Ward gave way to Fielders reliever Ryan Falcon, who was brought in to face the RedHawks' Nic Jackson. Jackson doubled down the right field line, scoring Coles. Fargo-Moorhead's Jesse Hoorelbeke then brought in Jackson on an RBI double of his own, giving Mossey all the support he would need.
Jay Cox and Carlo Cota also doubled in the game for Fargo-Moorhead.
These same two teams will meet for an early start at 11:00am tomorrow morning. The RedHawks will welcome area children for their annual School Day game. John Brownell will take the mound for Lake County while Fargo native Jake Laber gets the start for the RedHawks.