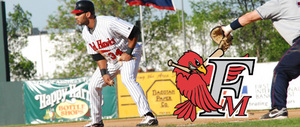 The Fargo-Moorhead RedHawks closed out the final contest of their season-opening homestand with a 5-3 loss to the Lake County Fielders Thursday night at Newman Outdoor Field. Lake County's win helped the Fielders come back to earn a split of the four game series after dropping the first two games.
Lake County (3-5) scored all five of its runs in the top of the first inning before many of the 2,503 fans in attendance even had time to take their seats. After Joseph Ramos walked and Joey Gomes singled, Fargo-Moorhead (4-3) shortstop Zach Penprase committed an error on what could have been an inning-ending double play. Instead, Lake County ended up sending all nine of its hitters to the plate in the frame. The Fielders' Jeff Dunbar collected two RBI on a single to left and catcher Anthony Esquer drove in two more with a double one night after hitting a game-winning home run.
Mike Coles lead off the game for Fargo-Moorhead with a double that hit the wall in deep left-center field. He was brought home on Nic Jackson's single up the middle.
RedHawks catcher Alan Rick made his first start since missing two games with a nagging ankle injury and hit an opposite field, two-run home run in the second inning.
Jake Ruckel, Chris Homer and Jason Pearson came out of the bullpen to give the Fielders four shutout innings.
Fargo-Moorhead's Casey Hoorelbeke pitched two scoreless innings in relief, striking out four. He mowed down Lake County's 1-2-3 hitters on strikes in the seventh.
Fielders starter Corey Bass recorded the win while Fargo-Moorhead's Darren Byrd was saddled with the loss. Former RedHawk Pearson came in to pitch the ninth and notched his second save.
The RedHawks will hit the road for a nine-game trip beginning tomorrow night in Kansas City while Lake County will travel to Joliet.