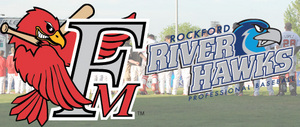 Saturday night's Northern League game between the Fargo-Moorhead RedHawks and the Rockford RiverHawks at Road Ranger Stadium in Rockford, IL, was suspended due to heavy rain. The game was stopped entering the top of the fourth innign with the RedHawks leading Rockford 4-3.
Saturday's game will be completed starting at 3:05 p.m. on Sunday afternoon, and will be followed by the regularly scheduled game. The second game will be seven innings.
The RedHawks return home to Newman Outdoor Field on Monday night to start a seven-game home stand with the first of four games against the Schaumburg Flyers. Game time for all four games against Schaumburg will be 7:02 p.m.