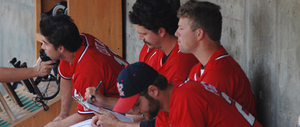 Rockford starting pitcher Brett Durand tossed a three-hit, complete game shutout to lead the RiverHawks to a 5-0 win over the Fargo-Moorhead RedHawks on Saturday night at Newman Outdoor Field.
Durand (7-6) threw only 90 pitches, 65 of those for strikes, in the game. He gave up doubles to Nic Jackson in the first and Jesse Hoorelbeke in the fourth as well as a single to Eric Campbell in the fifth. Durand did not allow a RedHawk runner past second base and retired the final ten Fargo-Moorhead batters in order. He also struck out six and allowed only one walk on the night.
Jason James gave Rockford a 1-0 lead in the third inning on an RBI-double to deep right-center field. He brought home former RedHawk Richard Austin, who had reached second base one batter earlier on a double of his own.
The RiverHawks (33-37) made the score 2-0 in the very next inning. Third baseman Evan McArthur led off with a single and later scored on a ground ball to shortstop by Kevin House.
James struck again for Rockford in the fourth inning, blasting on a two-run home run down the right field line off Fargo-Moorhead starter Jake Laber (7-3) to push the lead to 4-0.
The RiverHawks tacked on a final insurance run in the top of the eighth when McArthur singled to left to score designated hitter Patrick O'Sullivan.
Fargo-Moorhead (40-28) starter Laber went seven innings, giving up four runs on nine hits. The southpaw struck out three and walked one.
James finished the game 2-for-5 en route to his three RBI for Rockford. Austin was 3-for-5 and McArthur 2-for-4 for the RiverHawks.
The two teams will wrap up their three-game set tomorrow afternoon at Newman Outdoor Field. First pitch is scheduled for 1:00pm. Rockford's Roger Lincoln (4-6, 5.98) will take on Fargo-Moorhead's T.J. Stanton (4-3, 3.28).