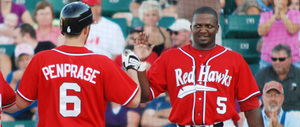 The Fargo-Moorhead RedHawks routed the Kansas City T-Bones 13-3 on Tuesday night at a sold-out Newman Outdoor Field. The win gave the RedHawks a one-game cushion over the T-Bones atop the Northern League standings.
Fargo-Moorhead (42-29) got an outstanding effort from starting pitcher Matt Mossey (6-3). Mossey limited the T-Bones to just two runs on two hits in seven innings of work. The righty also struck out three and issued three walks.
The RedHawks pounded out 15 hits in the game and were able to string some of those together and put up three big innings. Fargo-Moorhead plated three runs in both the third and fourth innings and scored four more times in the sixth.
RedHawks third baseman Eric Campbell went 2-for-3 in the game and hit a three-run home run, his 14th of the season. Shortstop Zach Penprase was 4-for-5 at the plate for Fargo-Moorhead while scoring three runs and driving in two more. The speedy Penprase also stole home in the second inning.
Kansas City (42-31) starter Reid Santos (4-4) could only manage to get one out in the third inning before being given the hook. The lefty gave up six runs on four hits while walking four and striking out two.
Third baseman Brian Joynt was 2-for-3 on the night for the T-Bones. Jacob Blackwood hit his 22nd home run of the season in the top of the eighth inning for Kansas City.
The two teams will continue their four-game series tomorrow night at Newman Outdoor Field. Kansas City will send Kevin Light (2-0, 2.95) to the hill while the RedHawks will counter with rookie Tyler Seaman (1-1, 3.94). First pitch is scheduled for 7:02pm.