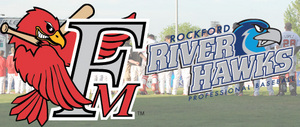 The Fargo-Moorhead RedHawks clubbed the Rockford RiverHawks to take over sole possession of first place with a 7-2, 14-2 doubleheader sweep Monday night at Road Ranger Stadium in Rockford, IL.

In the opener, Fargo scored three times in the first inning and led the rest of the way. Eric Campbell doubled in two and scored on a two-out single by Jay Cox. Jeremiah Piepkorn and Nic Jackson each homered for Fargo. Travis Scott homered in a losing effort, in front of a near-sellout crowd of 2,947.

Fargo starter Scott Fogelson didn't last five innings and had a no-decision. Reliever Cory Patton (1-0), who escaped a first-and-third, no-out jam in the fifth inning, was awarded the win.

Rockford starter Mike Wood (2-6) gave up six runs, five earned, on nine hits in six innings and took the loss.

In the nightcap, Zach Penprase singled in two runs with two outs in the Fargo second inning to break a scoreless tie and the RedHawks led the rest of the way. Fargo sent 13 to the plate in an eight-run fourth inning to knock out Rockford starter Kyle Ruwe (5-7).

Matt Mossey (7-3) struck out three without a walk and pitched a six-hitter for the win.

Carlo Cota and Kole Zimmerman each homered for the RedHawks. Rookie Franco Valdes homered for the RiverHawks.

The RedHawks and RiverHawks are back on the field for another doubleheader at 6:05 p.m. Tuesday night in Rockford.