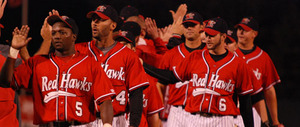 Fargo-Moorhead starting pitcher Scott Fogelson tossed seven scoreless innings to lead to the RedHawks to a 6-0 win over the Lake County Fielders in front of a sellout crowd at Newman Outdoor Field on Wednesday night. The southpaw improved his record to 7-3 while giving up just five hits on the night. Fogleson also struck out five and walked two.
Lake County (38-52) starting pitcher John Brownell was matching Fogelson pitch-for-pitch throughout much of the game. The righty held Fargo-Moorhead hitless through 5 2/3 innings. However, untimely walks and defensive errors led to Brownell (3-8) being saddled with the loss despite allowing just five hits over 6.1 innings. He also struck out seven.
A walk and an error by Brownell put runners on first and third for RedHawks (51-35) center fielder Nic Jackson in the home half of the fifth. Jackson drove in right fielder Mike Coles with a sacrifice fly to make the score 1-0. Brownell retired the next two Fargo-Moorhead hitters but then gave up a double down the line to RedHawks cleanup hitter Jeremiah Piepkorn to make the score 2-0. Left fielder Jay Cox plated the third Fargo-Moorhead run of the inning with a ground rule double to deep center, making the score 3-0.
The RedHawks tacked on two more runs in the sixth. Alan Rick singled, Coles reached on an error by Lake County shortstop Kyle Higgins and Jackson singled to load the bases for third baseman Eric Campbell. Campbell blasted a long line drive that bounced over the wall in left-center field, giving him a double and scoring two to extend the lead to 5-0.
Rick doubled home Cox in the sixth to make the final score 6-0.
Fargo-Moorhead relievers Donnie Smith and Casey Hoorelbeke each pitched a scoreless inning in relief. Hoorelbeke tied a franchise record with his 46th appearance of the season.
The RedHawks will hit the road and play their final 13 games of the season away from Newman Outdoor Field starting tomorrow in Winnipeg.