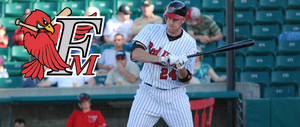 On fan appreciation day, Ace Walker gave Winnipeg Goldeyes fans plenty to appreciate.
The Goldeyes starter took a no-hitter into the eighth inning, as the Fish blanked the Fargo-Moorhead RedHawks 3-0 Sunday afternoon in front of a large crowd of 7,110.
Walker, who struck out 11 Fargo batters in the game, watched Carlo Cota hit a single to left field to break up the no-no.
It's the first time in franchise history that a Goldeyes pitcher has tossed a one-hitter. Walker also matched a Winnipeg record with six consecutive strikeouts in the game.
Winnipeg opened the scoring in the third inning when Brett Wallace touched home plate on a Price Kendall single and Donzell McDonald scored on a Juan Diaz single. Justin Justice hit a solo home run in the fourth to complete the scoring.
Sean Gregory took the loss for Fargo after going three and two-thirds innings.