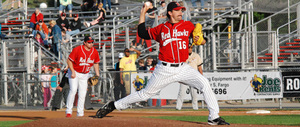 The Fargo-Moorhead RedHawks (58-37) topped the Joliet JackHammers 3-1 on Thursday night at Silver Cross Field in Joliet, IL. Play was stopped in the bottom of the sixth with a runner at first and nobody out after heavy rains reached the Joliet area.
The JackHammers did clinch a playoff berth after Rockford fell in game one of a scheduled doubleheader to Winnipeg 15-2. Game two was canceled due to rain and thus mathematically eliminated the RiverHawks, giving the JackHammers their second playoff appearance in nine seasons.
The RedHawks made a two spot in the third inning hold up against Rory Shortell (3-9). Alan Rick doubled off the wall in right center and scored on a Mike Coles single. Nic Jackson followed with a bloop single to left, scoring Coles from second for the 2-0 lead.
Joliet got a run back in the fourth with T.J. Stanton on the mound. Jon Nelson struck out swinging, but reached on a wild pitch with one out. Freddie Thon singled and Richard Mercado followed with a base hit to left field to plate Nelson.
The JackHammers loaded the bases in the fifth, but couldn't push a run across. Joe Billick singled and Jonathan Wyatt doubled into the right field corner to put the first two on. Stanton left with an injury and Donnie Smith (3-1) came on, getting a groundout off the bat of Kevin Rios for the first out. After Brad Correll was intentionally walked, Nelson grounded into a double play to end the threat.
Shortell takes the loss, allowing three runs on five hits over 5.2 innings. Paul Fagan recorded the final out in the sixth after Jesse Hoorelbeke launched a home run to left field against Shortell.
Smith picks up the win out of the bullpen, throwing an inning in relief with Stanton going the first four. The starter surrendered one run on six hits with four strikeouts.