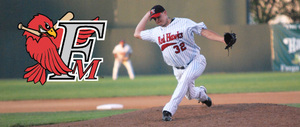 Fargo-Moorhead RedHawks pitcher Casey Hoorelbeke was named Northern League Relief Pitcher of the Year as voted on by select league personnel and players.
Hoorelbeke, who led the Northern League in ERA, went 10-5 with seven saves and a 1.84 ERA appearing in a league-high 52 games for the RedHawks
. On the year, he only yielded 56 hits in 83 innings pitched while striking out 75 batters. The righthanded workhorse pitched on back-to-back days 16 different times and three straight days on three different occasions throughout the regular season.
The 6-8, 265-pounder is in his seventh professional season, first with Fargo- Moorhead
. He played for Bridgeport (Atlantic League) last season where he went 3-3 with a save while appearing in 43 games. He was originally selected by the Florida Marlins in the 29th round of the 2000 amateur draft, but did not sign opting to play collegiately at Lewis-Clark State College (Lewiston, ID). He went on to play in the Los Angeles Dodgers and New York Mets minor league farm systems from 2004-08.
Hoorelbeke becomes the third RedHawks reliever to win the award over the last 11 seasons.
Northern League Relief Pitchers of the Year
2010 Casey Hoorelbeke Fargo-Moorhead RedHawks
2009 Andy Shipman Gary SouthShore RailCats
2008 Brian Beuning Winnipeg Goldeyes
2007 Nate Cotton Fargo-Moorhead RedHawks
2006 Amad Stephens Joliet JackHammers
2005 Matt Hammons St.
Paul Saints
2004 Chris Chavez St. Paul Saints
2003 Chris Chavez St. Paul Saints
2002 Matt Hammons Joliet JackHammers
2001 Chris Weidert Lincoln Saltdogs
2000 George Schmidt Fargo-Moorhead RedHawks