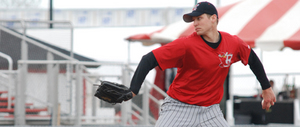 The Sioux Falls Pheasants defeated the Fargo-Moorhead RedHawks 4-2 on Sunday night at Newman Outdoor Field in Fargo, ND in an American Association exhibition game. Sioux Falls improved to 3-2 in the preseason, while Fargo-Moorhead dropped to 1-4.
Sioux Falls
starting pitcher Chris Salberg allowed one unearned run on two hits in 5.0 innings to earn the victory
. He struck out five batters and walked one. RedHawks starter Jake Laber was tagged with the loss after allowing three runs on six hits in 5.0 innings. Laber struck out two batters and did not allow a walk.
Fargo-Moorhead's 1B Jesse Hoorelbeke scored two runs and LF Jason James had two RBI
. The Pheasants were led at the plate by CF Reggie Abercrombie, who was 1-for-3 with a two-run triple and two runs scored.
The two clubs will meet again on Monday night at 6:00 p.m. at Newman Outdoor Field in Fargo. Fans can attend free of charge by bringing a donation of a non-perishable food item for the Great Plains Food Bank, thanks to Pride of Dakota.