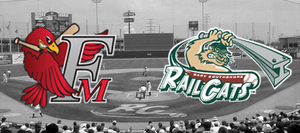 The Gary SouthShore RailCats defeated the Fargo-Moorhead RedHawks 4-2 on Friday night at U.S. Steel Yard in Fargo, ND.
In his first game in Northwest Indiana, Brad Boyer helped the RailCats improve to 4-4 on the young season and 1-0 at U. S. Steel Yard by belting his second home run of the RailCats Tenth Anniversary campaign and driving in the go-ahead run in the seventh. After being out hit the last couple nights in Kansas City, the RailCats offense awoke in front of the home crowd for nine hits, three of which collected by third baseman Chris Carrara.
Lefthander Derrick Gordon was excellent in his six innings Friday as the former Oakland Athletics product held the RedHawks to just two hits and two unearned runs. Gordon struck out six and walked four before giving way to another outstanding performance from the RailCats bullpen. James Baker earned the win for the RailCats in his inning of relief, Chris Chavez added a pair of strikeouts in his 0.2 innings and RailCats closer David Nathanson picked up his fourth save in as many chances. The 'Cats pen combined to allow just one hit while striking out four and walking just one.
Fargo Moorhead (2-6) struck first in the top of the third after a perfectly placed bunt behind the mound off the bat of Jason James forced an errant throw allowing the RedHawks leftfielder to advance to third with nobody out. Gordon came back to strike out the next hitter and after a walk was nearly off the hook but Indiana native Mike Coles spoiled what was almost a sizzling play, barely beating the return throw to first on the double play attempt from Boyer and shortstop Kyle Haines.
The RailCats evened the score the home half of the fourth when Boyer more than made up for his error in third with a line drive home run just short of the RailCats Diamond Club in right field. The second baseman remains the sole member of the 'Cats with a tally in the home run column through eight games.
The RedHawks took the lead back in the top of the sixth taking advantage of another another unearned run but the RailCats came right back when leftfielder Toddric Johnson crossed the plate on a fielder's choice off the bat of first baseman Mike Rohde to knot the game at two.
The home team took the lead for good in the seventh when Mike Massaro scored from second on an infield single off the bat of Boyer. Following a Cristian Guerrero single, Johnson stroked a single to the outfield to drive home Boyer to give the RailCats a 4-2 lead and all the cushion the RailCats bullpen would need.