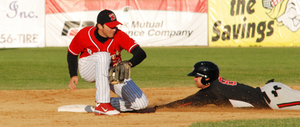 The Fargo-Moorhead RedHawks (8-8) fall to the Sioux City Explorers (7-8) Saturday night by a score of 12-3 at Newman Outdoor Field in Fargo, ND.
The Explorers exploded for 21 hits and scored runs seven of the nine innings. Every player had a hit and six different players had multi-hit games. Dustin Jones was 4-for-5 with two runs scored, two doubles and three RBI. Wally Backman Jr. also had a couple of runs scored and three RBI while going 4-for-6.
The middle of the RedHawks order was able to put three runs up on the board, but that wouldn't be enough. Jesse Hoorelbeke and Jim Fasano hit back-to-back with one out in the fourth inning. Then, Carlo Cota knocked in Hoorelbeke with a double, and Fasano scored on a Jason James groundout for two runs total.
Those same three struck again in the eighth inning. Again, Hoorelbeke and Fasano had back-to-back one-out singles. This time Hoorelbeke would make it to third on Fasano's single and score on a sac fly by Cota.
Taylor King (1-0) picked up the win after pitching six innings and allowing two runs (all earned) on seven hits. Oliver Odle (1-3) gave up six runs (five earned) and eleven hits en route to his third loss of the season.
The RedHawks will host the Sioux City Explorers tomorrow night at Newman Outdoor Field for the final game of their three-game series. Game time is 1:00 pm. Tickets are still available and can be purchased by calling 701-235-6161, online at www.fmredhawks.com, or at the Ticket Office during business hours.