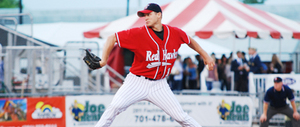 Jake Laber lead the Fargo-Moorhead RedHawks (19-12) to a 10-1 win over the Gary SouthShore Railcats (16-16) on Tuesday night at Newman Outdoor Field in Fargo, ND.
Laber (4-1) pitched a complete game six-hitter without allowing an earned run. The RailCats were able to put one run on the board in the fifth inning with the help of a Brian Ruggiano error, but that didn't faze Laber as he went on to finish with five strikeouts and only two walks. More impressive is the fact that Laber never faced more than four batters in an inning which allowed him to keep his pitch count low enough to last the entire game.
3,142 fans were in attendance for the first RedHawk complete game of the year. Those fans braved the forecast of thunderstorms and were rewarded with a stellar performance. The game was very quick lasting only two hours and fifteen minutes which helped it avoid any major showers or storms.
Run support was never a question either tonight as RedHawk hitters put up ten runs on 14 hits. Mike Coles had another big game going 3-for-4 for the second night in a row. Coles also scored two runs and batted in pair. Jason James provided a powerful punch as well going 2-for-4 with an RBI double and a two-run home run.
Jack Frawley (2-3) started the game for the RailCats and was tagged with nine of the ten runs in his third loss of the season.
The RedHawks will go for the series sweep of the Gary SouthShore RailCats in the final game of their three-game series tomorrow afternoon. Wednesday is a Business Day Game so the game time is 12:30 p.m. Tickets are still available and can be purchased by calling 701-235-6161, online at www.fmredhawks.com, or at the Ticket Office during business hours.