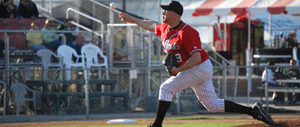 The Fargo-Moorhead RedHawks lost to the Schaumburg Flyers 5-4 in extra innings Tuesday night at Newman Outdoor Field in front of 3,027 fans. The RedHawks fall to 8-8 and the Flyers improve to 9-6 on the season.
RedHawks starter RHP Billy Weitzman (1-1) pitched six scoreless innings with four strikeouts and two walks. The RedHawks benefited from two errors to plate three runs in the bottom of the second inning.
The Flyers crept within one plating a pair of runs in the seventh to make it 3-2. Flyers starter RHP Steve Shippey (0-1) pitched six innings of work giving up three runs (one earned) on three hits. Shippey struck out six and walked three.
Flyers 3B Vince Harrison looped a ninth inning single over the mitt of RedHawks 1B Randall Simon to score SS Travis Brown from third and tie the game four all. Flyers reliever RHP Cephas Howard pitched a scoreless 10th and 11th inning to stretch his scoreless streak to eight innings. Brown hit an RBI single to right field in the Flyers 13th to knock home the game-winning run.
The RedHawks and Flyers play tomorrow night at Newman Outdoor Field in the third game of this four-game set. Game time is 7:02 p.m.