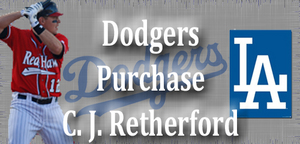 Fargo-Moorhead RedHawks 3B C.J. Retherford had his contract purchased by the Los Angeles Dodgers organization
, the American Association club announced Tuesday.
Retherford, 26, batted .339 with 24 doubles, four home runs, 37 RBI and 34 runs scored in 56 games for Fargo-Moorhead last season
. He joined the RedHawks in late June after being released by the Detroit Tigers organization.
Retherford began his professional career in 2007 with the Chicago White Sox organization after signing as a non-drafted free agent out of Arizona State University
. Retherford quickly advanced through the White Sox minor league chain, reaching Triple-A with the Charlotte (N.C.) Knights of the International League in 2010.
Retherford is the second player from the 2011 squad to have his contract purchased by a Major League organization, and 55th in franchise history
. RHP Alex Caldera was purchased by the Florida Marlins in August.