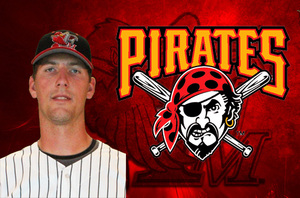 For the second time in less than a week, a Major League organization has come calling for a Fargo-Moorhead RedHawks player.

RHP Kenn Kasparek had his contract purchased by the Pittsburgh Pirates organization today and will report to Bradenton of the Florida State League (High-A) this weekend. In two starts with Fargo-Moorhead this season, Kasparek was 1-1 with a 5.40 ERA in two starts.
The RedHawks signed Kasparek this spring after he spent the past four years in the Seattle Mariners organization. The University of Texas product spent most of the 2011 season at Jackson of the Southern League (Double-A), where he was 5-5 with a 4.50 ERA in 12 starts.
"Kenn did a very good job for us and this is a great opportunity for him," said RedHawks Manager Doug Simunic. "The Pirates are getting a good pitcher and I wish him the best of luck as he continues his career."
Kasparek is the 58th player sold by the RedHawks to a Major League organization in franchise history. OF Jon Gaston had his contract purchased by the Chicago White Sox on Wednesday.
<redhawks>