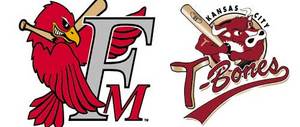 Craig Hurba handed the Fargo-Moorhead RedHawks (8-15) their ninth straight loss tonight with a walk-off grand slam as the Kansas City T-Bones (12-10) clinched a series victory with an 8-5 win at CommunityAmerica Ballpark.
With 3,006 on hand, Nic Jackson gave Fargo a 1-0 lead in the top of the first with a solo home run off Justin James. Following consecutive singles by Aharon Eggleston and Damian Rolls to begin the bottom of the inning, Nick Fellman surrendered a two-run double to Greg Jacobs as the T-Bones gained a 2-1 advantage. Justin Justice used an RBI triple in the second to tie the game at two.
Kansas City used two hits and an error to retake the lead in the third. After Rolls scored when Jim Fasano reached on a throwing error by Fellman, Brad Correll drove in the second run with an infield single. The RedHawks pulled even again in the fourth, scoring their first run of the frame on an RBI triple by Mike Coles. He would later score on a wild pitch to cap off the inning.
Fellman left after six having surrendered four runs, three earned, on six hits. James last four innings, allowing four runs on six hits. Neither would factor into the decision.
Cody McAllister threw two scoreless innings in relief of James before giving way to Payton Tweddale in the seventh. With runners on the corners and two out, Fargo attempted a double steal. Jeremiah Piepkorn was caught stealing in a rundown between first and second, but not before Jackson scored to give the RedHawks a 5-4 lead.
Tweddale threw one and one-thirds innings, surrendering one run on two hits before leaving in favor of Daniel Sattler (1-1). Sattler retired all five batters he faced, striking out three, to finish the game and earn the victory for Kansas City.
With one on and two outs in the ninth, Rolls doubled down the left-field line against Yosandy Ibanez (1-2) to put the tying and winning runs in scoring position. Following an intentional walk to Jacobs, Hurba connected on a 2-2 count for his second walk-off home run of the season, capping the score at 8-5. Ibanez suffered the loss after allowing four runs on three hits in two-thirds of an inning.
Ryan Knippschild looks to complete a three-game sweep for Kansas City as they face Broc Coffman and the Fargo-Moorhead RedHawks tomorrow morning. First pitch is set for 11:05.