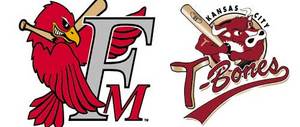 Ryan Fox became just the second player in T-Bones history to homer three times in one game as the Kansas City T-Bones (11-10) defeated the Fargo-Moorhead RedHawks (8-14), 7-4, tonight at CommunityAmerica Ballpark.
In front of 4,398 fans, Aharon Eggleston began the bottom of the first with a single off Scott Fogelson (0-2) and moved to second when Damian Rolls walked. An RBI single by Greg Jacobs plated Eggleston to give Kansas City a 1-0 lead. After Jeff Helps reached on a walk with two outs in the second, Fox hit his first home run, extending the T-Bones lead to 3-0.
Luis Villarreal (1-1) threw three scoreless innings before surrendering a home run to Nic Jackson to start the fourth. Fox pushed the lead to 4-1 with his second blast off Fogelson in the fifth.
Villarreal did not allow another run until the seventh when Jeremiah Piepkorn reached with one out on a throwing error and scored on an RBI double by Alan Rick. A two-out double by Kole Zimmerman plated Rick to bring Fargo-Moorhead within one. The T-Bones answered in the bottom of the frame when Helps tripled off David Arnold and was driven in by Fox's third home run of the night for a 6-3 advantage.
Todd Moser entered for Villarreal in the eighth and surrendered a double to Yurendell DeCaster with one out. DeCaster stole third and scored on an RBI groundout by Randall Simon for the RedHawks final run of the game. Villarreal allowed three runs, one earned, on five hits in the victory.
Jim Fasano tripled to open the eighth for the T-Bones and was driven in on an RBI triple by Brad Correll to cap the scoring at 7-4. Nate Cotton threw a scoreless ninth in his debut for Kansas City, earning his first save of the year. Fogelson took the loss after surrendering four runs on six hits in five and two-thirds innings.
Fox had a perfect night at the plate, finishing three-for-three with five RBI. He reached in his fourth at bat when hit by a pitch. Fox's three home runs matches the single-game T-Bones record set by Eddie Pearson on August 6, 2004 against the Joliet JackHammers. The T-Bones also tied the team record for triples in a game with three on the night.
Justin James takes the mound opposite Nick Fellman and the RedHawks in game two of the three-game series tomorrow night. First pitch is set for 7:05.