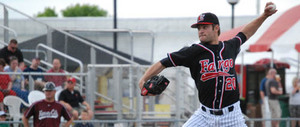 The Fargo-Moorhead RedHawks clubbed five home runs to defeat the Kansas City T-Bones 11-4 on Saturday night at Newman Outdoor Field in front of a near capacity crowd 4,247 fans.
In the home half of the third inning RedHawks SS Zach Penprase blistered a ball past his counterpart for a leadoff single. T-Bones starter RHP Chris Rhoads was able to induce the 6-4-3 double play, but RedHawks LF Nic Jackson worked a walk and 3B Yurendell DeCaster hit a two-run home run to give the RedHawks a 2-0 lead.
Kansas City DH Jeff Fasano knocked-out a fourth inning solo shot to put the T-Bones on the board 2-1. RedHawks C Alan Rick lifted a single to right-center and 2B Carlo Cota cracked the RedHawks second two-run home run of the game to make it 4-1 for the home team.
Kansas City LF Ryan Fox hit a fifth inning Ruthian blast over the left-field scoreboard for the T-Bones second solo-shot of the evening to make it a 4-2 ballgame.
Penprase and Cota responded with a pair of solo big flys to give the RedHawks a 6-2 sixth inning lead. Jackson capped the RedHawks four-run sixth with the seventh home run of the game. The T-Bones crept within four in the top of the seventh, benefiting from a bases-loaded walk and hit batsman.
DeCaster doubled down the left-field line to plate Penprase and CF Justin Justice in the home half of the eighth. 1B Randall Simon smoked a single up the middle to score DeCaster from second and give the RedHawks an 11-4 cushion.
Starter LHP Scott Fogelson (1-2) helped the RedHawks get off the schneid with his first win of the season. RedHawks reliever RHP Matt Mossey earned his first save of the season with 3.0 innings of relief. T-Bones starter RHP Chris Rhoads (2-1) suffers his first loss of the season and remains winless on the road.
The RedHawks look to sweep the T-Bones tomorrow in the 1:00 p.m. Sunday matinee game at Newman Outdoor Field. RHP Yosandy Ibanez is the scheduled starter for Fargo-Moorhead. Kansas City will send ace LHP Luis Villareal to the mound.
Fans can purchase tickets for all future RedHawks home games by calling 701-235-6161, online at
www.fmredhawks.com
or by stopping by the Newman Outdoor Field ticket office.
|
Back to index...