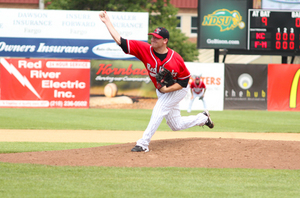 RedHawks starter Tyler Herron struck out eight batters and gave up only one earned run in 7+ innings in the 3-1 victory over the Kansas City T-Bones on July 8, 2012 at Newman Outdoor Field.
Herron picked up his third win of the season improving his record to 3-3 on the season. Herron pitched into the eighth inning having only allowed four hits before a Spiker Helms home run and Justin Bass single brought in reliever Joe Harris. Harris picked up two strikeouts in the eighth and Tom Boleska capped off the ninth with his American Association leading 15th save of the season.
"I came out a little sluggish," explained Herron on his performance, "luckily for me the breaking ball was working and I got some good outs. Getting ahead today was a big thing and throwing quality pitches."
Kansas City starter Shaun Garceau (5-1) picked up his first loss of the season. Garceau pitched the distance for the T-Bones, going eight innings and allowing three earned runs on eight hits with three strikeouts. Neither team had a walk in the game.
The RedHawks had a 2-0 margin in the fourth after RBI singles by Ryan Delgado and Marcos Rodriguez scored Buddy Sosnoskie and Jon Gaston. Ryan Delgado would hit a home run in the sixth to extend the Fargo-Moorhead lead to 3-0.
Ryan Delgado was 2-for-3 with his eighth home run of the season and two RBIs while Zach Penprase was 2-for-4 to lead the RedHawks at the plate.
Enrique Cruz was the only player for the T-Bones with a multi-hit game, batting 2-for-4.
Fargo-Moorhead (27-21) now has a six-game winning streak heading into tomorrow night's 7:02 p.m. game against the Kansas City T-Bones (27-23). Tickets are still available at fmredhawks.com or by telephone at (701) 235-6161