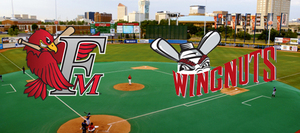 WICHITA, KS- The Wichita Wingnuts (35-26) lost 10-5 to the Fargo-Moorhead RedHawks (38-23) at Lawrence-Dumont Stadium on Sunday afternoon.
Third baseman Eric Campbell drove in seven of Fargo's 10 runs, helping the RedHawks open a 9-0 lead after four innings.
With the bases loaded and no outs in the top of the first, Campbell hit a ground rule double over the left field fence to drive in the game's first two runs.
In the top of the second, Buddy Sosnoskie singled through the right side to score Carlo Cota from second base. Nic Jackson followed with an RBI single through the right side that brought in Zach Penprase from third. Campbell capped off the inning with a two-run double off the left field fence.
A Penprase walk and a Sosnoskie single to center in the top of the fourth led to Campbell's three-run homer to left that made it 9-0 in favor of the RedHawks.
Wingnuts' starter Dumas Garcia took the loss, allowing nine earned runs on eight hits in three and one-third innings. Garcia walked four and struck out four.
Ryan Khoury led off the bottom of the sixth with a solo home run to left to get Wichita on the board. Khoury added a two-run single to left in the bottom of the seventh that sliced Fargo's lead to 9-3. John Rodriguez hit a sacrifice fly later in the inning to bring the Wingnuts within five runs.
Mark Wagner and Gerardo Avila slugged back-to-back doubles to produce Wichita's fifth run in the bottom of the eighth. Kevin Fuqua relieved Daniel Morari after Avila's RBI double and recorded the final five outs to finish the game.
Fargo's 10th run came in the top of the ninth on a Ryan Stovall RBI single to center.
Aaron Shafer started and won for the RedHawks, allowing four earned runs on seven hits in six and one-third innings. Shafer walked four and struck out three.
Andrew Aizenstadt, James Baker, and Jeff Nadeau combined for four and one-third scoreless relief innings in which they allowed just two hits.
Avila has hit safely in seven straight. Jairo Perez's hitting streak came to an end at nine games.
Garcia was signed by the Wingnuts prior to Sunday's game. A sixth-year pro, the right-hander entered with a 26-19 record and a lifetime 3.68 ERA in 374.1 career innings. Garcia has spent parts of two seasons at the Triple-A level and three at the Double-A level. The 29-year-old appeared in 27 games this season as a reliever for the Atlantic League's York Revolution.