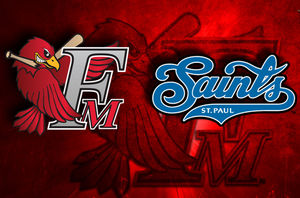 ST. PAUL, MN (August 1, 2012) – The St. Paul Saints ended July with a seven game winning streak, but the month of August got started on the wrong foot with a 14-2 loss to the Fargo-Moorhead RedHawks on Wednesday night at Midway Stadium in front of 4,998.
The big inning occurred in the top of the third as the RedHawks sent 11 men to the plate, pounded out seven hits and had seven consecutive men reach base. With the Saints trailing 1-0 starter Todd Mathison began the inning by retiring the first man he faced, but then the floodgates opened. Ryan Stovall got it started with a single. Stovall then tried to steal second, but left before Mathison delivered the pitch. Mathison didn't realize it and instead of stepping off he delivered the pitch to the plate and Stovall stole second easily. Instead of two out and nobody on the RedHawks capitalized. Nic Jackson drilled a two-run homer to right, his 14th of the season to make it 3-0. Eric Campbell, who finished the night 5-6, reached on a single. Jon Gaston walked and Ryan Delgado drove home Campbell with an RBI single to make it 4-0. Marcos Rodriguez loaded the bases with a single and Todd Jennings followed with another single scoring Gaston to make it 5-0. An RBI fielder's choice by Carlo Cota and an RBI single from Zach Penprase finished the scoring and gave the Red Hawks a 7-0.

Every RedHawk collected a hit and Saints started Todd Mathison was roughed up for nine runs (four earned) on 11 hits in 5.0 innings.

Billy Spottiswood proved to be a bright spot for the Saints after being re-signed on Wednesday. He hurled 3.0 hitless innings and allowed just one base runner, a walk, while striking out one in his return to the Saints.
The Saints finally got on the board in the ninth when Ronnie Bourquin walked, moved to second on an infield single by Jake Krause and both men advanced on the throwing error by the shortstop Penprase on the play. Jon Townsend drove home the first run with an RBI groundout and Adam Frost's infield single scored the second run.
The same two teams meet in the finale of the four game series on Thursday night at 7:05 p.m. at Midway Stadium. The Saints send RHP Luke Anderson (3-0, 2.52) against RedHawks RHP Aaron Shafer (5-4, 6.23).