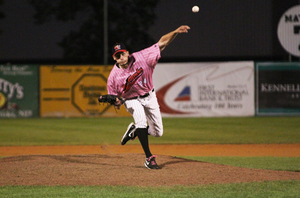 Fargo, ND – The St. Paul Saints scored seven runs in the first three innings and Kyle Ruwe pitched seven scoreless innings in a 7-0 victory over the Fargo-Moorhead RedHawks at Newman Outdoor Field on August 8, 2012.
For the second consecutive night, St. Paul jumped out to an early lead over the RedHawks. Miles Durham hit an RBI double and a two-run John Townsend single helped the Saints take a 3-0 lead in the second.
RedHawks starter Aaron Shafer couldn't slow down the Saints bats in the third and would only last two outs into the inning. Willie Cabrera hit a double that scored Ole Sheldon, Jose Hernandez scored on another Durham single, and Townsend hit his second two-run single in the third to give the Saints four runs in the third and a 7-0 lead.
Fargo-Moorhead reliever Joe Harris came in for relief of Shafer and pitched the RedHawks through the next 6 1/3 innings giving up only four hits and no earned runs with three strikeouts. Shafer (7-5) pitched 2 2/3 innings giving up seven earned runs on seven hits and four walks.
Saints starter Kyle Ruwe (1-1) picked up his first victory of the season in seven innings of work. Ruwe gave up nine hits with five stikeouts and two walks. Nick Carr pitched a perfect eighth and Bret Severtson pitched a scoreless ninth.
Jon Townsend was 3-for-4 with 4 RBIs to lead the St. Paul (41-35) at the plate. Sheldon, Durham, and Ronnie Bourquin had two hits apiece.
Fargo-Moorhead had nine hits total, none of which them for extra-bases. Zach Penprase, Nic Jackson, Ryan Delgado, and Carlo Cota each had two hits.
The Fargo-Moorhead RedHawks and St. Paul Saints conclude their three-game series tomorrow night at 7:02 p.m. Tickets are available at fmredhawks.com or by calling (701) 235-6161.