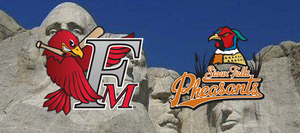 (courtesy of www.sfpheasants.com)
SIOUX FALLS -- There was no shortage of power on Sunday night for Reggie Abercrombie, who homered twice in the Sioux Falls Pheasants' 6-4 victory over the Fargo-Moorhead RedHawks.
The win snapped a seven-game losing streak for the Pheasants in their final division game of the season.
Both of Abercrombie's long balls came at key moments in the game. The first started a four-run rally in the second inning after the RedHawks scored two on Ryan Delgado's double in the top half. The second broke a 4-4 tie in the fifth inning and put the Pheasants ahead for good.
Listen to Abercrombie's first home run:
Abercrombie has sparked the offense since returning to Sioux Falls on July 30. He has six homers and 14 RBI in just 13 games played.
"I don't bring anything special to this lineup," said Abercrombie. "I just go out there and do the best I can to have fun with it and play hard for these fans."
After Abercrombie's leadoff blast in the second, Jake Taylor's double plated two and Cory Morales' sacrifice fly gave the Pheasants a 4-2 advantage.
Listen to Taylor's two-run double:
The RedHawks erased that lead with Ryan Stovall's two-RBI double in the fifth inning. But Abercrombie smacked his second home run off Fargo-Moorhead starter Paul Burnside (8-6) to give the Pheasants the lead again.
"All I can say is that I thank God, and I'll keep going out there and doing my best to get us back to .500," said Abercrombie.
Pheasants' starter Mark Michael (6-6) picked up the win with six innings pitched, allowing four runs on four hits. He walked six, but struck out five as he improved his record to 2-1 against the RedHawks this year.
"Mark did a good job out there," said Pheasants manager Steve Shirley. "He gave us what we needed from him to keep us in the game and deserved this win."
Burnside suffered the loss. He pitched five innings and gave up five runs on six hits. He also walked three and struck out six.
An error by RedHawks shortstop Zach Penprase led to the final Pheasants run. His throw to first base for the would-be third out was wild and allowed Jake Taylor to come home.
Alan DeRatt picked up his third save of the year for the Pheasants in the ninth inning. He pitched a perfect frame and struck out one.
Listen to the final out call:
Cesar Nicolas was 3-for-3 with a double and a walk for the Pheasants. He raised his team-best average to .351, staying in the hunt for the 2012 batting crown. Bryan Myrow, currently on the inactive list with Grand Prairie, leads the league with a .355 mark.
Jake Taylor was 2-for-4 with two RBI, and Al Quintana went 2-for-3.
"The guys played good tonight," said Shirley. "We had a decent start and the bullpen closed it down for us. At the end of the day, you have to feel good about getting back on the winning side."