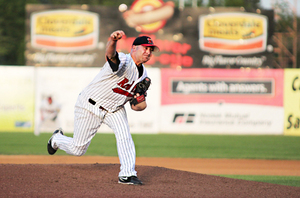 Fargo, ND – Tyler Herron won his seventh consecutive home start and Zach Penprase went 3-for-4 to carry the Fargo-Moorhead RedHawks to an 8-2 victory over the Winnipeg Goldeyes on August 14, 2012 at Newman Outdoor Field in front of a crowd of 4, 309.
On a night the RedHawks celebrated their 3,000,000th fan to cross through the gates at Newman Outdoor Field since the franchise began play in 1996, the Fargo-Moorhead lineup began their offensive charge early.
Penprase hit a leadoff home run in the first, Carlo Cota hit a solo home run and Todd Jennings hit a double scoring Marcos Rodriguez to give the RedHawks a 3-0 lead through two innings.
Winnipeg cut the deficit to 3-2 after a Yurendell de Caster solo home run and a Luis Alen single scored Jon Weber from first after an error in the fourth.
The RedHawks (54-28) responded in the bottom half putting the game out of reach. Jon Gaston hit an RBI double, Rodriguez followed with a two-run double to right-center field, Jennings hit an RBI single and Nic Jackson hit a sacrifice fly to end the RedHawks with five runs and a lead that stood at 8-2.
RedHawks starter Tyler Herron pitched seven innings giving up two runs (one earned) on five hits, one walk with four strikeouts and improved his record to 9-3. Kyle Dahman pitched 1-2-3 innings in the eighth and ninth for Fargo-Moorhead.
Winnipeg (47-34) reliever Adam Jones pitched five shutout innings of relief giving up only two hits and two walks while striking out five. Starter Todd Privett dropped to 5-5 on the season after throwing only 3+ innings while giving up eight earned runs on nine hits.
The RedHawks picked up 11 hits in the ballgame with the 7-8-9 hitter combination of Cota, Rodriguez and Jennings batting 6-for-9 with five runs and four RBIs. Penprase hit his third home run of the season while Gaston and Ryan Delgado each picked up hits.
Five different players had hits for the Goldeyes, with de Caster and Weber representing the only runs Winnipeg scored.
Fargo-Moorhead and Winnipeg continue their four-game series tomorrow night at 7:02 p.m. at Newman Outdoor Field. Tickets are available by calling (701) 235-6161 or by visiting fmredhawks.com. The probable starters for tomorrow's game is Alex Caldera for the RedHawks and Ace Walker for the Goldeyes