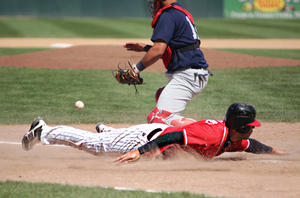 Fargo, ND – Fargo-Moorhead starter Jake Laber held Winnipeg scoreless through 7 1/3 innings and Zach Penprase hit the game-winning double in the eighth to lead the RedHawks to a 1-0 win at Newman Outdoor Field on August 16, 2012.
The RedHawks finish the series winning three out of four over the Goldeyes and are now 6.5 games ahead of Winnipeg in the American Association North Division Standings.
Starters Jake Laber and Chris Salamida were effective in their starts. Both didn't allow a runner to reach third through seven innings.
Winnipeg attempted a rally in the top of the eighth off Laber, with Amos Ramon picking up a one-out single and Kyle Day following with a single to put runners on first and third. Kyle Dahman came in for Laber and forced Goldeyes outfielder Mike Coles to ground into a 4-6-3 double play to end the Winnipeg threat.
Fargo-Moorhead put the only run of the game on the board in the eighth. Marcos Rodriguez hit a single off Salamida to end his day before Chris Allen came in for relief. With two outs and a tie game, Penprase hit a double to right centerfield advancing Rodriguez home all the way from first on a close play at the plate.
Laber gave up no runs in 7 1/3 innings on four hits with two walks and three strikeouts. Dahman improved to 3-1 on the season and Tom Boleska struck out two in the ninth for his league-leading 26th save this season.
"I turned it around in the second inning," said Laber on his performance, "I let everything loose and after that I pitched with a lot of confidence."
Salamida (4-6) picked up the loss after throwing 7 1/3 innings giving up four hits and one earned run on six strikeouts. Allen pitched 2/3 innings and gave up the game-winning hit to Penprase.
Penprase lead the RedHawks (55-29) hitting 2-for-3 with an RBI double. Nic Jackson, Jon Gaston, and Marcos Rodriguez each had singles.
Amos Ramon had the first three hits in the game for the Goldeyes (48-35) and finished 3-for-3 on the day.
The RedHawks continue their seven-game homestand tomorrow with a 7:02 p.m. game against the Rockland Boulders in a three-game interleague set at Newman Outdoor Field. Tickets are available at fmredhawks.com or by calling (701) 235-6161.