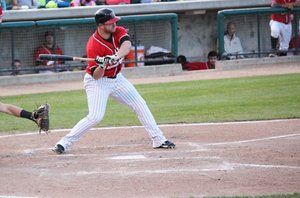 Fargo, ND – Eric Campbell went 3-for-3 with two doubles to lead the RedHawks to a 7-3 victory over the Rockland Boulders in interleague play on August 17, 2012 at Newman Outdoor Field.
Fargo-Moorhead starter Paul Burnside threw 115 pitches in 5 2/3 innings in the victory. His record improved to 9-6 as he struck out eight batters while walking six. Joe Harris and Kevin Fuqua each pitched 1 2/3 innings combining to give up three earned runs on three hits and two walks. Fuqua picked up his first save of the season in relief.
The RedHawks (56-29) relied on a couple of timely hits to pull away with the game early. Eric Campbell hit a double in the second and scored on a Jon Gaston single to center to give Fargo-Moorhead a 1-0 lead.
The Fargo-Moorhead lead increased in the third. Ryan Stovall hit an RBI single to score Carlo Cota, Zach Penprase scored on a pass ball from third, and Gaston hit a sacrifice fly to extend the RedHawks lead to 4-0.
Rockland's Jonathan Smith hit an RBI double in the eighth to cut the lead to 5-1, but Fargo-Moorhead's Ryan Delgado erased the run with a two-run home run in the bottom of the eighth to make the score 7-1.
Chris Valencia was 2-for-4, Ryan Mollica and Gabby Martinez hit RBI groundouts in the ninth to lead Rockland (43-42).
Jonathan Velasquez pitched seven innings giving up five runs (four earned) on six hits, three walks, with five strikeouts for Rockland in a losing effort. Julio Santana pitched the eighth and gave up the home run to Delgado.
Campbell led the RedHawks at the plate with two doubles, two runs scored and an RBI. Gaston and Delgado each had two RBIs and Stovall scored one. The RedHawks had six players with hits.
The RedHawks lead the North Division of the American Association by 7.5 games after a Winnipeg loss to St. Paul tonight. Fargo-Moorhead and Rockland continue their three-game series tomorrow at Newman Outdoor Field at 6:00 p.m. Tickets are available at fmredhawks.com or by calling (701) 235-6161