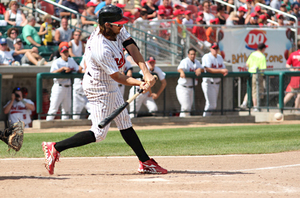 Fargo, ND – The RedHawks finished off a three-game sweep of the Rockland Boulders on August 19, 2012 at Newman Outdoor Field with a 4-0 victory and completing the seven-game homestand with a 6-1 record.
Starters Tyler Herron and Pat Moran held both teams scoreless through five innings before Moran gave up the first run of the game.
Zach Penprase and Ryan Stovall hit first pitch singles to begin the sixth and Jon Gaston was intentionally walked to load the bases. Ryan Delgado followed Gaston and was hit by a pitch, resulting in an RBI and a RedHawks 1-0 lead.
Rockland had their best chance to score in the eighth. Ryan Mollica hit a leadoff double off Herron who struckout the next batter before coming out for Kyle Dahman. Billy Alvino hit a single to put runners on the corners, but Joe Harris came in to strikeout Chris Valencia to end the Boulders threat.
The RedHawks added a couple of insurance runs in the eighth. RBI singles by Marcos Rodriguez and Zach Penprase and an RBI double by Carlo Cota down the left field line highlighted a three-run eighth to stretch the Fargo-Moorhead lead to 4-0.
Tyler Herron won his league-high 8th consecutive victory improving his record to 10-3 on the season. He allowed only three hits in 7 1/3 innings while picking up nine strikeouts and walking no batters. RedHawks relievers Kyle Dahman, Joe Harris, and Tom Boleska held the Boulders scoreless in a combined 1 2/3 innings.
Rockland starter Pat Moran (4-6) pitched well in the loss, throwing seven innings and giving up one earned run on seven hits, two walks and seven strikeouts.
Every player in the RedHawks lineup picked up a hit in the ballgame. Zach Penprase was 3-for-5 with a run and RBI, Marcos Rodriguez went 2-for-3 with an RBI, while Todd Jennings and Carlo Cota both had doubles in the victory.
Rockland's Ryan Mollica had two doubles while Billy Alvino picked up two hits to make up the Boulders four hits in the game.
Fargo-Moorhead (58-29) now head on the road for a six-game road trip against the Grand Prairie Airhogs and the Kansas City T-Bones. The RedHawks return home to play the Laredo Lemurs on August 28 in the final homestand of the regualar season.