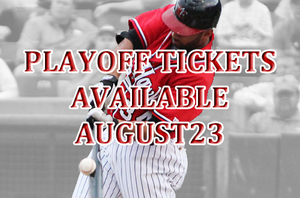 Fargo-Moorhead RedHawks Playoff Tickets will go on sale starting Thursday August 23rd at 10:00 am. Fans can purchase playoff tickets at the RedHawks Ticket Office, by phone and online at www.fmredhawks.com.
With the team closing in on a North Division title, the RedHawks plan to host Games 1 & 2 of the first round of the 2012 American Association Playoffs on Wednesday, Sept. 5 and Thursday, Sept. 6. Both games will start at 7:02 p.m. against an opponent to be determined. Reserved Tickets are $9 in advance and $11 day of game.
RedHawks fans who purchase or renew Season Tickets for 2013 by September 1 will receive their 2012 playoff tickets for free. Fans who would like to purchase seats for all five potential playoff games can do so for $35 and any game not played would be credited back to the credit card they purchased the tickets with after the playoffs.
Fans are reminded that all vouchers, including: Flex Packs, Bookworms Reading Program, Season Tickets Exchanges, Knothole Gang, etc., are redeemable for the regular season games only and will not be honored for any playoff games. The RedHawks close out the regular season with a four-game homestand against the Laredo Lemurs from August 28-31.


With 13 games remaining the RedHawks magic number to clinch the North Division title is four. The 2012 Playoffs will be the 15th time the RedHawks have advanced to the post-season in their 17 year history, and will be seeking their 6th League Championship and 1st in the American Association. Prior to joining the American Association in 2011 the RedHawks won five Northern League Championships.
Should the RedHawks advance and remain the top seed they would host Games 3, 4 and 5 of the American Association Championship Series on September 14-16. Games 4 and 5 would be played if necessary. Games 1 & 2 would be September 11 and 12.
1st Round Playoff Schedule
Game 1 Wednesday September 5th at 7:02PM at Newman Outdoor Field
Game 2 Thursday September 6th at 7:02PM at Newman Outdoor Field
Game 3 Friday September 7th at TBD
Game 4 Saturday September 8th at TBD (If Necessary)
Game 5 Sunday September 9th at TBD (If Necessary)