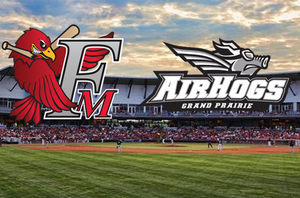 GRAND PRAIRIE, Texas - After getting only one hit the previous night, the Grand Prairie AirHogs began Tuesday's game with no hits in the first three innings, before Brian Myrow got the AirHogs' first hit in the fourth. But by then they were down 2-0, and never were able to get back even, as the Fargo-Moorhead RedHawks won their first ever game at QuikTrip Park by a score of 6-4.
The RedHawks (59-29) got their lead thanks to a two-out rally in the third, with a single by Nic Jackson and a two-run home run by Eric Campbell off Nick DeBarr (12-7). After stranding Myrow in the third, the AirHogs (46-43) got a run back on a hit by Yasutsugu Nishimoto in the fourth, but Jonny Kaplan bounced into a 6-4-3 double play with runners at the corners to prevent Grand Prairie from getting the tying run.
DeBarr had perfect innings in the fourth and fifth, but ran into trouble in the sixth, before a two-run broken-bat single by Marcos Rodriguez put Fargo-Moorhead up 4-1.
Alex Caldera (10-2) allowed a solo home run to Trent Lockwood in the seventh, and Kevin Fuqua, Joe Harris and Tom Boleska combined to allow the AirHogs two runs on four hits in the final 2 1/3 innings, but Grand Prairie's bullpen could not hold the RedHawks down, and Carlo Cota hit his third home run of the season with two outs in the eighth to give Fargo-Moorhead enough insurance.
Notes: Boleska picked up his league-leading 27th save...The AirHogs' nine hits were picked up by nine different hitters…Three RedHawks had multi-hit games…A night after drawing nine walks, the AirHogs only drew one…Fargo-Moorhead is now 5-0 against Grand Prairie this year…This is the second time this season the AirHogs have lost four straight home games.