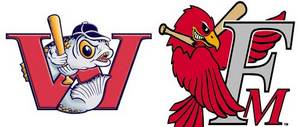 The Fargo-Moorhead RedHawks split a doubleheader with the Winnipeg Goldeyes on Sunday afternoon at CanWest Park in Winnipeg, MB. Fargo-Moorhead won the first game 7-4, and dropped the second game 7-6.
In Game 1, Fargo-Moorhead opened the scoring off Mark Michael in the second. Nick Jackson singled to lead it off and stole second. Yurendell DeCaster followed with a fly ball to right that Cory Patton misplayed, putting both runners in scoring position with none out. After getting the next two batters, Michael gave up a two-run single to Alan Rick before Justin Justice hit his fourth home of the year to make it 5-0.
Blanked through four by Scott Fogelson, the Goldeyes came to life in the fifth. After walking Wes Long to start the inning, Fogelson got Josh Asanovich to fly out before issuing his sixth walk of the day, this one to Kevin West. That was it for Fogelson, who was replaced by T.J. Stanton and met by a Juan Diaz single that scored Long and sent West to third. Cody Ehlers singled to score West, sending Diaz to third, from where he scored on a Dee Brown single that extended his league-leading hit streak to 18 games. It was also the first earned run allowed this year by Stanton. Scott Koerber replaced Stanton and got Patton to bounce into an inning-ending double play.
The visitors came right back in the top of the sixth. Justice doubled to start the inning off Zach Baldwin, who was replaced by Chris Homer, making his first appearance in more than a month. Zach Penprase greeted him with a double to score Justice. Penprase moved up on a Mike Coles ground out and scored to make it 7-3 on a Jackson sacrifice fly. The hosts got one back in the bottom of seven off Elvys Quezada. Cody Ehlers doubled with two out and scored on a single by Brown.
Fogelson (3-2) was the winner, allowing two runs on three hits in four-plus innings, fanning three and walking six. Michael (0-1) took the loss, allowing five runs (none earned) in four innings on eight hits with two walks and an equal number of strikeouts.
In Game 2, Winnipeg opened the scoring off Nick Fellman in the third. Kurt Crowell singled to lead it off, Wes Long singled with one out and both moved up a passed ball. Josh Asanovich grounded out to score Crowell and the hosts had their first lead of the series. They added to that in the fourth. With Juan Diaz aboard, Dee Brown hit his seventh home run of the year to extend his league-leading hit streak to 19 games.
After Mike Coles singled to start the game for the RedHawks, Bear Bay recorded 12-straight outs before running into trouble in the fifth. Singles by Randall Simon and Jeremiah Piepkorn and a one-out walk to Carlo Cota loaded the bases for Justin Justice, who promptly cleared them with his league-leading seventh triple. With two out, Coles hit a ball to Long at short. His throw to first was high as Justice scored to make it 4-3. But the Goldeyes came right back, regaining the lead on three-straight hits as Long tied it with a one-out solo home run before Josh Asanovich and Kevin West hit consecutive doubles.
Blanked by Jordan Stewart in the sixth, the RedHawks stung Matt Davis with two out in the seventh. Alan Rick hit a lead-off single and was replaced by pinch-runner Kole Zimmerman, who stole second and went to third when catcher Jeff DeSmidt's throw ended up in centre. After Cota struck out and Justice grounded out, Zach Penprase hit his third home run of the year to right. But the Goldeyes would not go quietly.
Pinch-hitting for DeSmidt, Adam Frost drew a walk from Elvys Quezada to start the seventh and went to second on a single by Long. Both moved up on an Asanovich sacrifice before Kevin West was intentionally walked to load the bases, ending the day for Quezada. Billy Weitzman came in to face Diaz and uncorked a wild pitch, allowing Frost to score and Long and West to move up before Diaz singled to score Long and end it.
Davis (3-2) was the winner, allowing two runs on two hits with one strikeout in one inning. Quezada (2-1) took the loss, allowing two runs on one hit and a pair of walks in one-third of an inning.