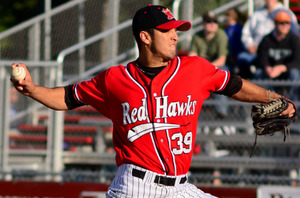 FARGO, N.D. – Walks proved to be costly as the Fargo-Moorhead RedHawks fell 3-1 to the Sioux City Explorers in front of 4,020 fans at Newman Outdoor Field on Friday evening.
The RedHawks plated the first run of the game as Ronnie Bourquin scored on a wild pitch in the first, but were unable to capitalize in the next eight innings despite outhitting the Explorers 6-5 and leaving 11 on base.
Sioux City took advantage in the second as Austin Gallagher and Luke Murton were issued walks with no outs. Gallagher scored on a fielding error to tie the game and a RBI single by Bryan Pounds gave the Explorers a 2-1 lead. The Explorers added an insurance run in the fifth with an RBI single by Murton.
Sioux City Explorers' starter (26-40) Ryan Lucero (1-1) silenced Fargo-Moorhead's bats through 6 innings to hold the 'Hawks to just one run on two hits. Lucero went 6 2/3 innings, giving up four hits with four walks and seven strikeouts before giving way to Jimmer Kennedy with two outs in the seventh inning. Chris Bodishbaugh came in for a five-out save, earning his 13th of the season.
Alex Caldera (8-3) started for the Fargo-Moorhead RedHawks (40-26) and gave up three runs on four hits with six walks as well as six strikeouts. Mackenzie King relieved Caldera, only allowing one hit in three scoreless innings after working out of a bases-loaded jam in the eighth.
C.J. Retherford was the only RedHawk with a multi-hit game, going 2-for-4.
The Fargo-Moorhead RedHawks face the Sioux City Explorers in game two on Saturday at 7:02 p.m. Tickets are available at fmredhawks.com or by calling (701) 235-6161.