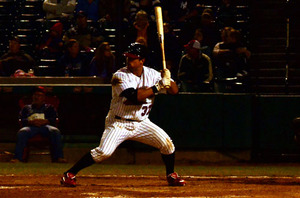 FARGO, N.D. – The Gary SouthShore RailCats picked up 18 hits in an 11-2 victory over the Fargo-Moorhead RedHawks in Game 2 of the American Association Semifinals Thursday at Newman Outdoor Field.
Reid Fronk led the RailCats by driving in five runs, including a three-run double in the fifth that broke the game open and gave Gary SouthShore a 4-0 lead.
The RailCats scored nine of their 11 runs in two innings and combined for 10 hits in the four-run fifth and five-run eighth.
Stephen Hiscock pitched 6 2/3 innings and gave up one run on five hits in the win for the RailCats. He struck out two batters, walked three and allowed only one runner to reach third until seventh inning.
Mike Massaro went 4-for-6 and scored two runs, Zac Mitchell picked up three hits and three RBIs, and three other Gary SouthShore batters had multi-hit games.
RedHawks starter Alex Caldera gave up only a run heading into the fifth. He would pick up the loss throwing 4+ innings and allowing five runs on six hits and four walks. Derrick Miramontes and Chris Bodishbaugh both made appearances, while Ethan Opsahl allowed one run and struck out three in 2 2/3 innings out the Fargo-Moorhead bullpen.
C.J. Retherford had the only multi-hit game for the RedHawks and Keith Brachold drove in the one RBI for Fargo-Moorhead in the seventh.
The RedHawks and RailCats travel to Gary, Ind., to continue the best-of-five series Friday. Fargo-Moorhead will need to win two out of three against the RailCats away from home to advance to the American Association Finals.