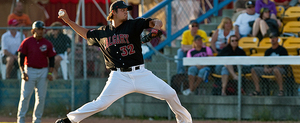 The Fargo-Moorhead RedHawks added another quality arm to the pitching staff, as the team has signed RHP Henry Mabee (MAY-bee) to a contract.
Mabee, 28, has spent the past seven seasons in the Chicago White Sox organization. In 2013 he appeared in seven games with the Birmingham Barons of the Southern League (AA), where he was 1-0 with a 1.54 ERA. Mabee pitched 11.2 innings for the Barons and allowed two runs on nine hits with five strikeouts. He also appeared in four games for the Bristol (Tenn.) White Sox, where he was 1-0 with a 4.50 ERA in four games.
Mabee was selected by the White Sox in the 19th round of the 2007 draft out of Morehead State University of Kentucky. In his career, which included a 13 game stint with the Calgary Vipers of the North American League in 2011, Mabee is 23-15 with a 3.06 ERA and 42 saves. He has allowed 283 hits in 324.0 innings pitched and recorded 253 strikeouts.
Mabee has pitched at the Double-A level with Birmingham during each of the past five seasons, and was a teammate of RedHawks INF C.J. Retherford from 2007-2010 in the White Sox chain.
"Henry is going to be one of the main guys at the end of our bullpen," said RedHawks Manager Doug Simunic. "He been a solid pitcher at the Double-A level for a long time and we expect he will be a major contributor for us this summer."