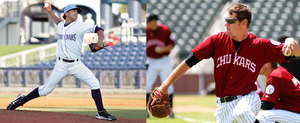 The Fargo-Moorhead RedHawks continued to build their pitching staff for the 2014 season as the club has signed RHP Nate Garcia and LHP Clayton Schulz to contracts.
Garcia, 25, pitched last season in the Tampa Bay Rays organization with the Charlotte Stone Crabs of the Florida State League (High-A). He was 3-4 with a 3.48 ERA and 13 saves in 41 relief appearances. Garcia allowed 24 runs (21 earned) on 46 hits in 54.1 innings pitched. He struck out 49 batters and walked 24.
Garcia was selected by the Rays in the 16th round of the 2010 draft out of Santa Clara University (CA). In four professional seasons, he is 8-13 with a 3.36 ERA and 20 saves in 111 games. In 201.0 career innings pitched, Garcia has allowed just 180 hits and has struck out 186 batters.
Schulz, 23, joins the RedHawks after pitching for the Lexington (KY) Legends of the South Atlantic League (A) as a member of the Kansas City Royals organization. He was 3-4 with a 3.03 ERA and five saves in 35 games. Schulz allowed 22 runs (20 earned) on 48 hits in 59.1 innings pitched and recorded 52 strikeouts. He held left-handed hitters to a .152 batting average against him and allowed just one home run.
Schulz was signed in 2011 by the Royals as a non-drafted free agent after completing his college career at the University of North Florida. In three seasons in the Royals organization, he is 10-11 with a 4.13 ERA and five saves in 54 games (14 starts). Schultz has pitched 146.0 innings in professional baseball and allowed 146 hits while recording 130 strikeouts.
REDHAWKS NOTES… • The Fargo-Moorhead RedHawks have traded 1B/C Jon Talley to the New Jersey Jackals of the Can-Am League. Tally was signed by the RedHawks earlier this spring.