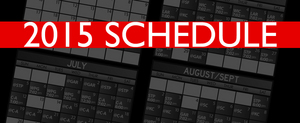 CLICK HERE FOR PDF OF 2015 SCHEDULE
FARGO, ND – The Fargo-Moorhead RedHawks are preparing to celebrate the 20th season in franchise history in 2015. With the release of the schedule today, fans can now make plans to join the party.
The RedHawks will open the season on Thursday, May 21 against division rivals St. Paul Saints. The RedHawks will help the Saints christen CHS Field, the team's new ballpark located in the Lowertown district of downtown St. Paul, with a four-game series.
The 2014 Home Opener will be Monday, May 25 (Memorial Day) at 6:00 p.m. against the American Association's newest team, the Joplin Blasters and will include a special post-game fireworks show. The three-game series will also feature a School Day Game for kids on Tuesday, May 27 with a special 11:00 a.m. first pitch.
"We are excited to celebrate our 20th season of RedHawks Baseball in 2015, and this schedule is a great one for our fans," said RedHawks General Manager Josh Buchholz. "We have begun planning for a full slate of fireworks, entertainment and giveaways and plan to make our 20th year our best yet."
Fargo-Moorhead will be home for seven weekends during the summer, six of which will feature Friday night post-game fireworks. The six Friday fireworks nights are scheduled for: June 5 vs. Laredo; June 26 vs. St. Paul; July 10 vs. a Can-Am opponent; July 31 vs. Grand Prairie; August 21 vs. Gary and September 4 vs. a Can-Am opponent (Fan Appreciation Night).
Three of the very popular Business Day Games are on the schedule for 2015, all on Thursdays. The Business Day Games are scheduled for: June 18 vs. Sioux Falls; July 10 vs. Winnipeg and August 13 vs. Gary.
For the third consecutive season, the RedHawks will travel east for games against teams from the Can-Am League. The RedHawks will play 11 games on the East Coast from July 15-25. Two Can-Am League teams will pay visits to Newman Outdoor Field from July 10-12 for a three-game series and September 1-4 for a four-game series. Opponents will be announced when the Can-Am League schedule is released.
The RedHawks will close the regular season with seven straight games at home, concluding over Labor Day weekend (Sept. 5-7) with a three-game series against Amarillo.
The American Association will operate as a 13-team league in 2015 with the addition of the Joplin Blasters. Joplin will play in the South Division. The schedule will be a 100-game, full-season format with the three division winners and one wild card team making the playoffs.
Standard game times in 2015 remain unchanged. First Pitch for Monday-Friday games will be at 7:02 p.m. Saturday games will begin at 6:00 p.m. and Sunday games are set for 1:00 p.m. Exceptions to these times are: May 25 (6:00 p.m.); May 26 (11:00 a.m.); June 18 (12:30 p.m.); July 9 (12:30 p.m.); August 2 (6:00 p.m.); August 13 (12:30 p.m.); September 6 (6:00 p.m.) and September 7 (1:00 p.m.). The full RedHawks promotions schedule will be released in the spring.
Season Tickets, Flex Packs and Group Tickets are available for purchase today and make great Christmas gifts. Single-game tickets for the 2015 season will go on sale on Wednesday, April 1 at 10:00 a.m. For more information or to ask questions on tickets, call the RedHawks Ticket Office at 701-235-6161 or visit our website: www.fmredhawks.com.
2015 AMERICAN ASSOCIATION
North Division
· Fargo-Moorhead RedHawks
· St. Paul Saints
· Sioux Falls Canaries
· Winnipeg Goldeyes
Central Division
· Gary SouthShore RailCats
· Kansas City T-Bones
· Lincoln Saltdogs
· Sioux City Explorers
South Division
· Amarillo Sox
· Grand Prairie AirHogs
· Joplin Blasters
· Laredo Lemurs
· Wichita Wingnuts
Can-Am League
· New Jersey Jackals
· Ottawa Champions
· Quebec Capitales
· Rockland Boulders
· Trois-Rivieres Aigles