Coaches
Jeff Bittiger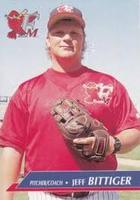 Player Personnel Consultant
Jeff Bittiger is the player personnel consultant for the F-M RedHawks and has been with the team either as a player, coach or consultant since 1996. A native of Jersey City, NJ, Jeff was drafted in the 7th round by the New York Mets in the 1980 MLB Draft. Originall drafted as a third baseman, Bittiger was converted to a full-time pitcher in 1981 and was in the Mets farm system until New York traded him to the Philadelphia Phillies in 1986. he started 3 games for the Phillies and hit a homerun in his first at bat. In April of 1987, Bittiger was signed by the Minnesota Twins at first as a starting pitcher and later as a middle reliever. After winning the 1987 World Series with the Twins, Jeff was signed by the Chicago White Sox the following year and played in the White Sox organization until being traded to the Los Angeles Dodgers in 1989.
From 1990 to 1993, Bittiger played in the minor leagues for the Dodgers, Indians, Royals and Athletics. In 1993, he joined the Rochester Aces, an independent team in the Northern League and manager Doug Simunic. Bittiger would play 2 seasons in the Northern League before signing with Oakland and playing for the Edmonton Trappers in the Pacific Coast League. In 1995, Jeff returned to the Northern League and signed with the Winnipeg Goldeyes and former skipper Doug Simunic, where Jeff went 8-5 in 20 games and helping the Goldeyes win their first league championship.
In 1996, Bittiger would join Simunic and the expansion F-M RedHawks franchise. As a pitcher with Fargo-Moorhead, Bittiger fashioned a 36-12 record with a 3.46 ERA in 77 starts (393.1 innings) from 1996-2002. His best season came in 1998, when he tied a league record for victories with a 12-1 record and a 1.94 ERA in 16 starts and led the RedHawks to the championship. That year he was selected as the Northern League's "Star of Stars" (by Howe Sportsdata), was named to pitch in the Northern League All-Star game as tabbed to the Northern League Post-Season All-Star team. In 2000, Bittiger was named Baseball America's Independent Player of the Decade for the 1990's.During his RedHawks career, Bittiger would go on to set many team and league records and currently holds the team record for lowest career ERA at 3.46. Along with pitching for the RedHawks, Bittiger was also the team's pitching coach and did both until his retirement in 2002. He would stay on a as the club's pitching coach in 2003 and became a team consultant in 2004.
Bittinger stepped aside as the RedHawks pitching coach and become a scout for the Oakland Athletics in 2004.